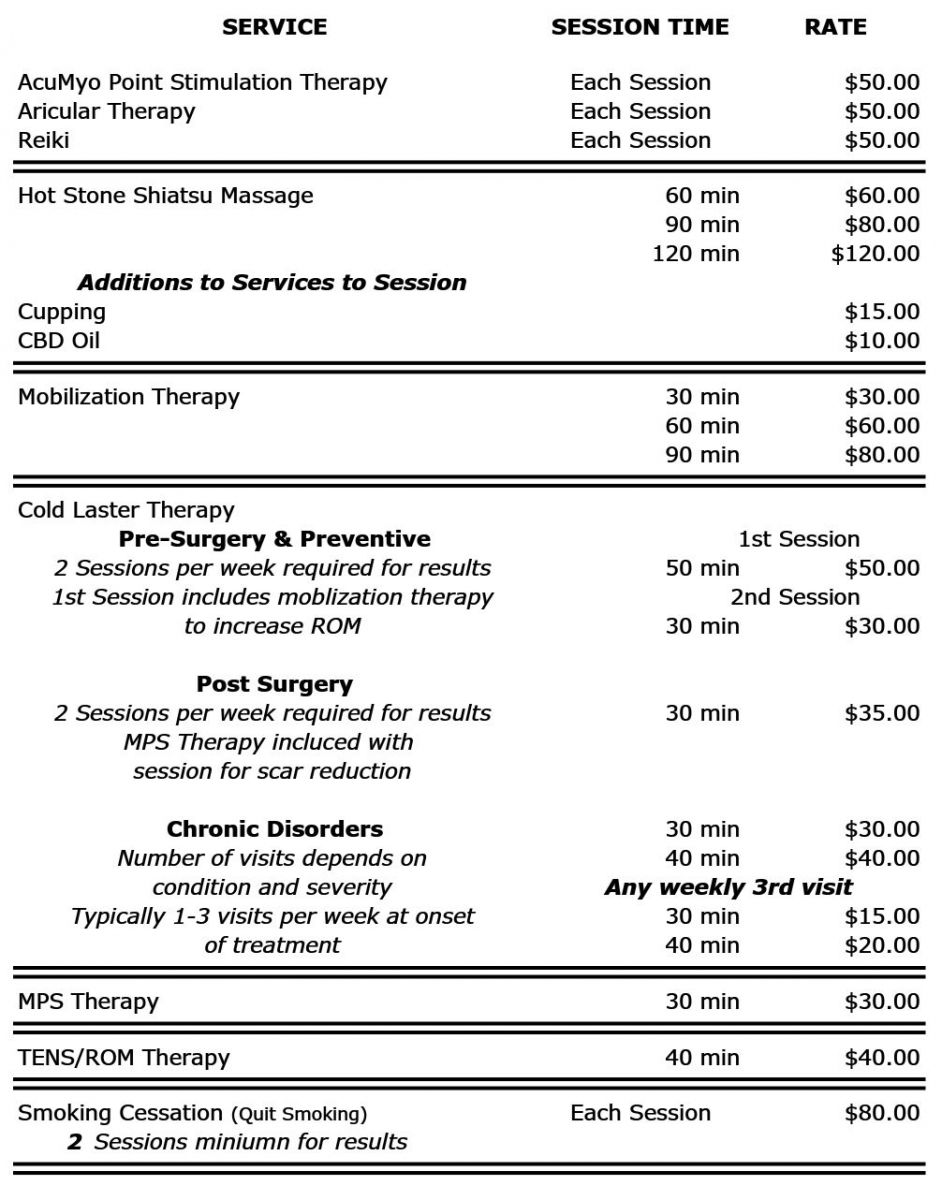 Services Description
AcuMyo
AcuMyo musculo therapy focuses on extreme musculoskeletal pain and inflammation
caused by chronic conditions and illnesses.
Auricular Therapy
Auricular point stimulation therapy addresses internal problems that are often
identified with the use of our AcuGraph digital scanning.
Reiki Therapy
A biofield therapy focusing on both emotional and physical healing
Utilized in care at R. Adams Shock Trauma Center in Maryland, as well as Johns Hopkins Hospitals,
and abundantly in palliative care centers because of its noted success in pain care.
Cold laser Therapy
Cold laser therapy has multiple applications.
It is useful as preventive care to aid in avoiding costly surgery.
It serves as a proactive therapy to increase the success rate before
surgery and avoid post-op complications.
It is very useful for post-op surgery to stimulates healing in deep tissues after surgery
Cold laser therapy can stimulate all cell types including muscle, ligament, cartilage, nerves, etc.,
There are a number of chronic and acute conditions that can be treated by cold laser therapy.
MPS Therapy
MPS therapy focuses on the breakdown of scar tissue and adhesions within the fascia and muscle tissues
to re-establish metabolism and blood flow to and through these areas.
This is an excellent therapy for surgery scars and scars from past serious injuries.
Mobilization Therapy
Mobilization therapy is a unique and effective manual therapy utilizing
gentle manipulation techniques.
The purpose of mobilization therapy is to provide corrective and restorative movement to soft tissue
and joint structures that have lost normal function due to injury or disease.
Hot stone shiatsu
Hot stone shiatsu massage is considered a wellness modality that combines
several techniques to reduce stress and relieve tension in muscles
and damaged soft tissues throughout the body.
We offer additional services for your Session
For a small additional fee you can add cupping or the use of CBD oil to your experience.
Both offer addition benefits of pain relief along with other health benefits
TENS/ROM manipulation Therapy
TENS (transcutaneous electrical nerve stimulator)
is used to stimulate muscle contractions, block pain receptors,
and release endorphins and other substances to stop pain signals in the brain.
The stimulated contractions allow muscle tissues to gain strength and move freely.

ROM (range of motion)
manipulations of the muscles during therapy aids in reducing
stiffness and inflammation in the tissues to increase mobility

Adam Trisler C.H.H.P., S.M.T., C.M.T., P.Ac.
Michigan Medical Acupuncture Association Vice President
Brian Johansen C.H.H.P., C.R.M., C.M.T., P.Ac
Michigan Medical Acupuncture Association Board Member

57465 N. Main St.
Three Rivers, MI 49093
(574)-612-3068
(269) 506-9116
Visit us @ facebook
email: nmwellness@comcast.net